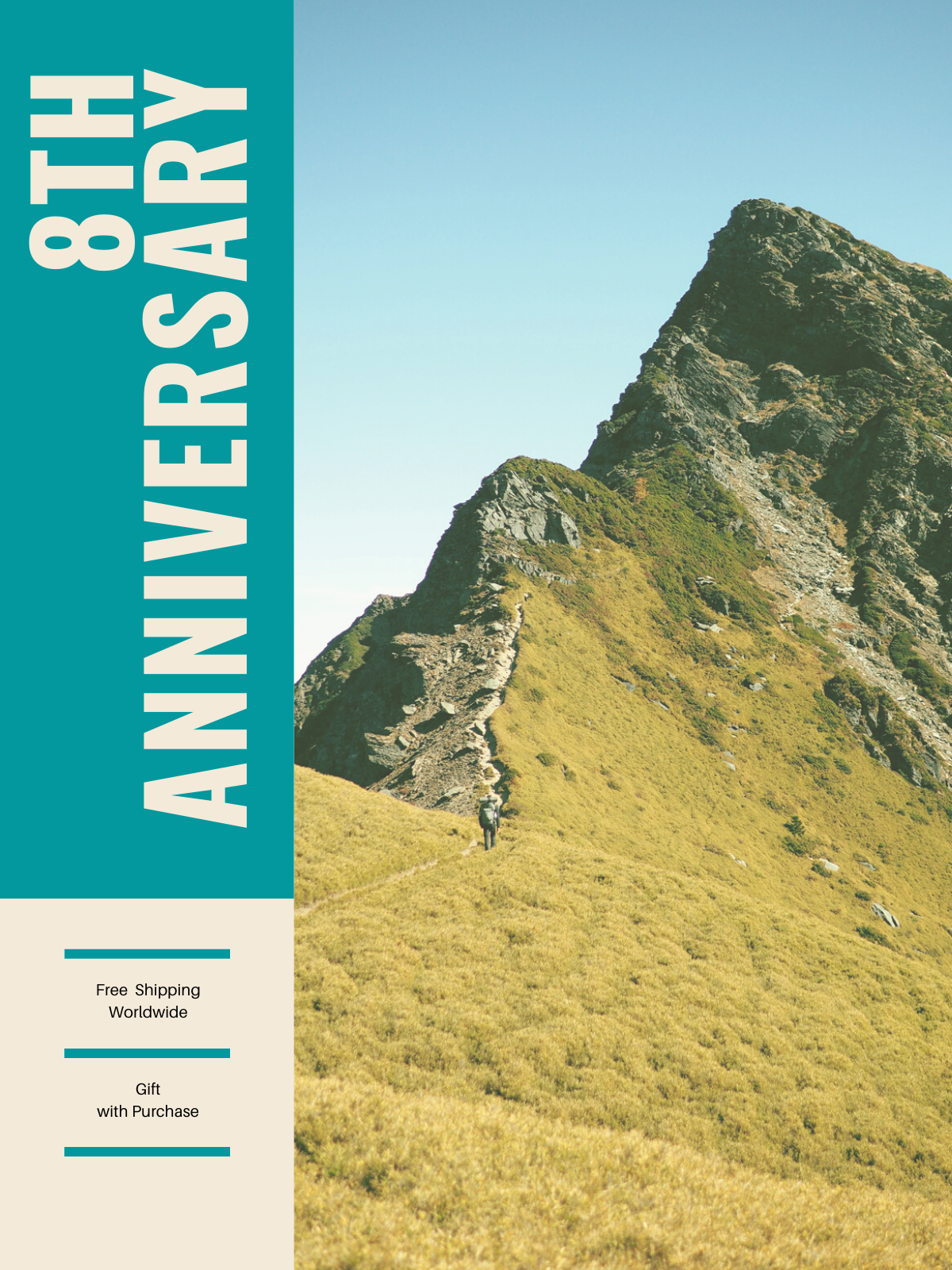 It's officially the 8-year anniversary of HANCHOR. Thank you for your continued support and encouragement over the past years. We'd like to invite you to join the celebration of our 8th Anniversary. This year, besides free international shipping and numerous gifts, we are announcing some limited edition products. Take a look at the following introduction.
HANCHOR 8th Anniversary offers (2020/5/12~26)


* please contact info@hanchor.com if the products you need are out of stock

▎1. Free shipping worldwide during 12th-26th May, 2020
(Standard International parcel shipping~ leadtime 2-3 weeks)
Fill out Coupon code "HANCHOR8TH" to get free shipping while placing order.
(SUL sleeping pad- full/half are not included in oversea free shipping offer)

▎2. Get one piece of YKK Molle buckle for orders include CELL series: CELL phone bag CORDURA/ CELL phone bag X-Pac/ CELL phone bag Multicam

▎3. Get one piece of zipper pull for orders include SURFACE series: SURFACE / SURFACE MESH / CUSTOM SURFACE

▎4. Get one COMB for orders include following daypacks: PUMICE/ TUFF / TUFF MINI/ GARNET VX21/ GARNET CORDURA / PIPE-T1/ ZIRCON/ GARNET MINI VX21/ GARNET MINI CORDURA

▎5. Get one Water Bottle Holder for orders include following backpacks: Breccia / MARL/ MARBLE / FLINT / FROST

▎6. Order amount exceeds NTD 5000 will get one SURFACE MINI (limited edition, color in random)

▎7. Order amount exceeds NTD 8000 will get one limited edition SURFACE MESH or one shorter edition of STEAM summit pack

▎8. Order amount exceeds NTD 10000 will get one limited edition SURFACE MESH + one Workout Gym Tank


* Anniversary offer is only available during May 12th- May 26th, 2020. Gift quantities are limited and are only available while stocks last.
* Gifts shipped in random pick
* Gifts for amount exceed NTD 5000, NTD 8000, NTD 10000 cannot be accumulated
* SUL sleeping pad- full/half are not included in oversea free shipping offer




Besides anniversary offer, we want to introduce you some new products of 2020
▎

IN STOCK product -

8-year limited edition CELL Typhon / Orange

Limited edition, quantity is limited, only during 12th~26th May, 2020.
▎IN STOCK product - DIKE Shoe/ Shoulder Bag
DIKE is a functional bag with roll-top compartment and breathable mesh compartment to separate clean and dirty stuff. You can make it a shoulder bag or hand bag. DIKE allows you to pack your climbing/ sport shoes at breathable pocket which is ideal for all kinds of sports , climbing gym, gym etc...
▎IN STOCK product - Universal Water Bottle Holder
This Universal Water Bottle Holder makes it easy to access water bottles while walking. No need to take off your backpack anymore. It is compatible with most kinds of packs, not only HANCHOR backpacks and can be used as a pocket to hold many sorts of stuff.
▎SURFACE MINI CUSTOM Option
13 X-Pac color options and 11 zipper color choices. There are thousand upon thousands of color combinations for Custom SURFACE MINI.
It is surely for everyone to find their matching SURFACE MINI.


▎Hook and Strap 2020 new edition
2020 new edition. Left and Right hooks in one set. More smoothly while tightening and adjusting the straps. Able to attach sorts of gears onto the backpack.